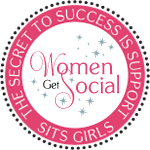 When I started blogging,I knew what content I wanted to write about, but not how to use technology. I learned the basics of blogging and then more advanced aspects through a website called SITS Girls. It a blog for bloggers. Through them I've learned everything from how to find my blogging niche to a bit about SEO (that's Search Engine Optimization). I've also met a new friends along the way. And each weekday,
SITS features a blog
and guess what? Today, it's Pruning Princesses!
Welcome SITS friends. I am so glad you are here. I've been writing advice to other moms since I first found out I was pregnant. I would compose lists in my head of all the things I wish someone had told me. And eventually the mental lists were too much, I needed to write them down. Pruning Princesses was born. Raising girls is a great joy, but the world we live in is making is tougher. So this blog is for moms who want to raise strong, confident girls, who love Jesus and who they were created to be.
Grab your tea or coffee, look around. Learn and be inspired from moms who have been there and done that (Mentor Moms), find articles to challenge your mommy brain (Fuel), read the mothering advice I've grabbed on to and followed (Wednesday Wisdom) or check out Exploration where finding all the topics Pruning Princesses has covered from eating disorders to dolls and from keeping track of hair bands to making sidewalk paint is a bit easier.
Raising these emotionally charged little females is a roller coaster ride of peaks and valleys. I hope you join me, especially on the days where all we can do is raise both hands and scream. And if you aren't raising girls, I bet you know a mom who could use the encouragement and ideas found here. Won't you share this blog with them?